PhaSauce
Orange County, CA
PhaSauce was established with family and busy individuals in mind. With today's fast-moving pace, we all seem to be short of meaningful time for each other. Hence, Phasauce was created to ease the cooking experience. It's a flavorful Vietnamese product line of marinades and dressing and dip that is easy to use, fast and convenient to reduce prep-time in the kitchen. PhaSauce marinades come in garlic, lemongrass, curry, and a garlic Pan-Asian dressing and dip. The sauce is carefully crafted with depth flavors and fresh ingredients so our customers can enjoy it in the comfort of their personal space. Satisfaction, simplicity, and convenience are the critical customer components of the company's mission.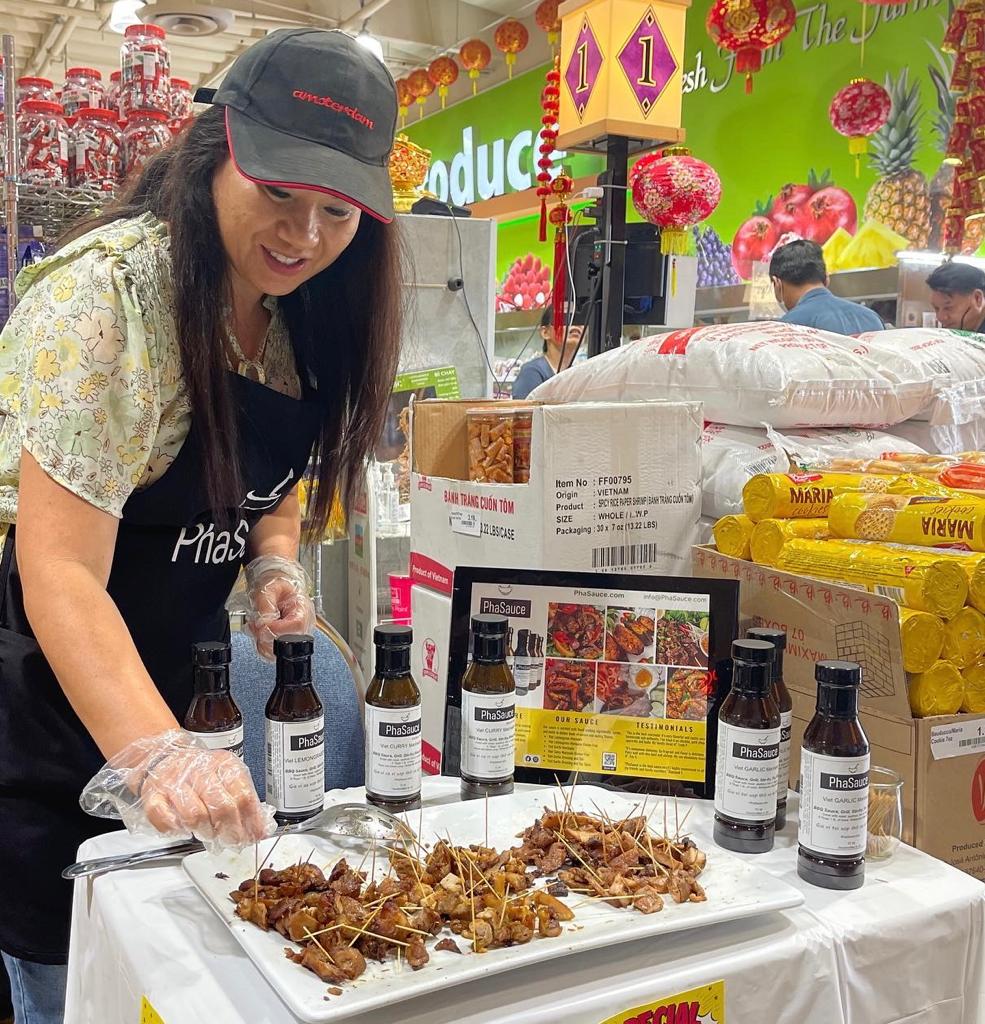 About the Chef
Holly
Holly once owned a restaurant in Lincoln Park, Il called Asiana. There she introduced popular Vietnamese dishes to the yuppy patrons.  She takes pride and pleasure in seeing the different ethnicities enjoying Vietnamese food that's being served in the restaurant.Her drive and passion for food took her to another stage in her life and PhaSauce became a reality during the height of the pandemic. And the rest is history, PhaSauce is now available on three online platforms and in seven supermarkets in the OC California, and Arizona areas.  Many more stores are in the works to carry. 
"Food is a universal language and I aim to enrich and cultivate happiness through it for our customers, simultaneously bridging eastern and western cultures with PhaSauce".
Whip Up a Classic Vietnamese Dish Easily with PhaSauce!
Try all 3 Vietnamese Inspired Marinades!
1. [Most Popular] Vietnamese Garlic Marinade
2. Vietnamese Lemongrass Marinade
*Check out their website for Gluten-Free options!
These three Signature Sauces are packed with Vietnames flavors and well-blended ingredients. They have a perfect combination of spices that create a delicious umami flavor for any type of protein (beef, chicken, pork, tofu, or fish)! Also, great for stir-frying with mixed vegetables! Grill, Bake, or Fry --the possibilities with these sauces are endless!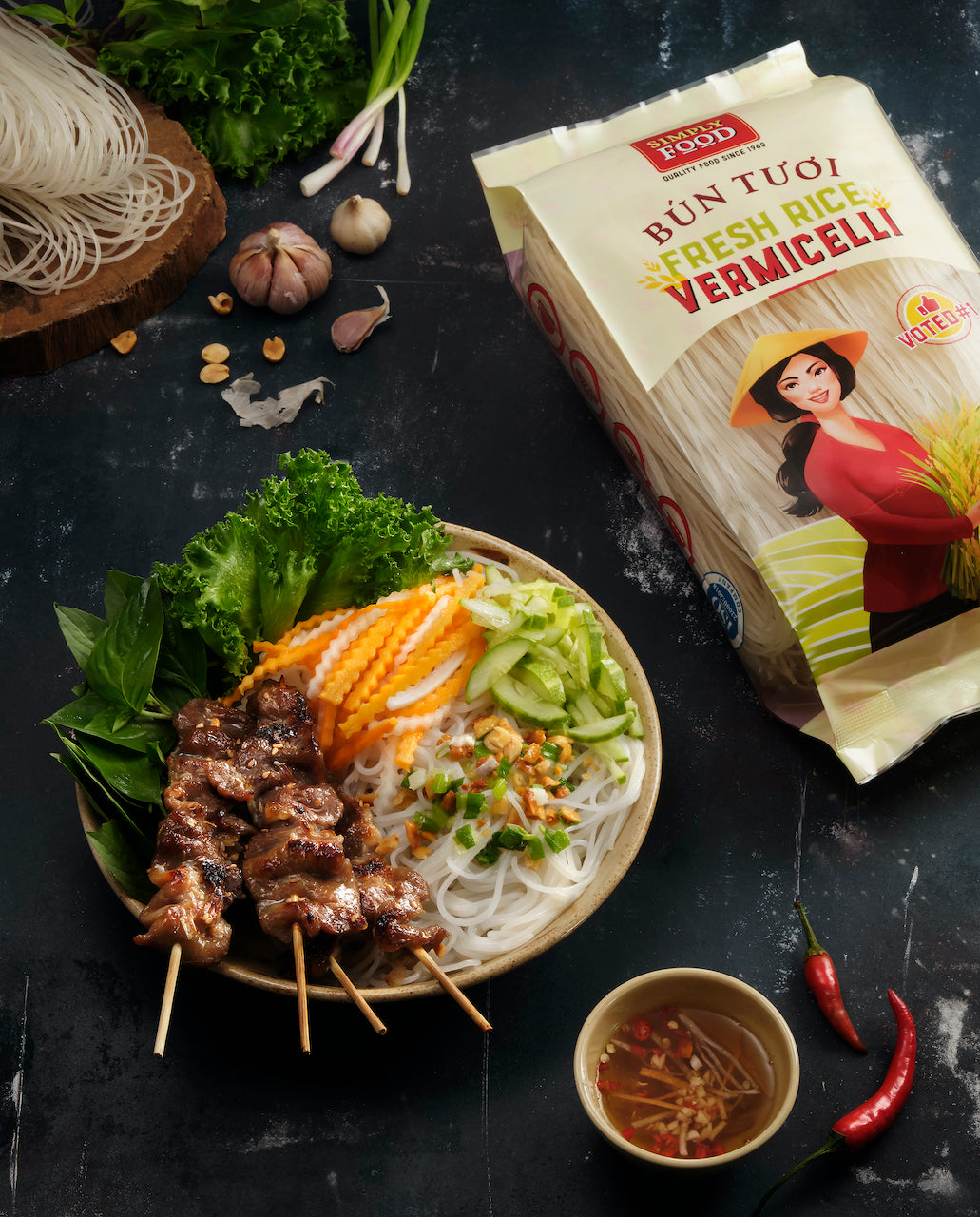 Grilled Meat and Dry Rice Vermicelli Noodle Bowl
Bún Thịt Nướng
Made with: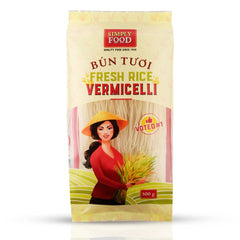 Premium Fresh Rice Vermicelli Noodles
Serves: 2-4
Preparation time: 30-35 Minutes
Ingredients:
1 Pack of either Simply Food's Rice Vermicelli Noodles or Fine Rice Vermicelli Sheets
1/2 Cup of PhaSauce's Vietnamese Lemongrass Sauce
2 Lbs of Ribeye Steak or Your Choice of Meat
4 Tbsp of Olive Oil
1/2 Cup of Chopped Peanuts
1 Cup of Pickled Carrots and Daikon
1 Cup of Mint Leaves
2 Cups of Lettuce Leaves
1 Cup of Sliced Cucumbers
1 Cup of Beansprouts
1/2 Cup of Vietnamese Fish Sauce for Dipping (Nuoc Cham)
STEP 3
Cook Marinated Meat
Skewer the meat or airfry as is for 7-10 minutes at 380 degrees until fully cooked.
STEP 4
Prepare Sides
Chop cucumbers, slice scallions, wash herbs (lettuce, mint, beansprouts), and roast peanuts.
Pickle your own carrot and daikon or simply buy them from a jar.
Prepare or purchase Vietnamese 'Nuoc Cham' sauce for dipping.
STEP 5
Assemble Meat and Noodle Bowl
Lay a base of noodles or noodle sheets to your bowl. Add your grilled meat to the center on top. Add your lettuce, mint, beansprouts, cucumbers, and pickled daikon and carrot. Sprinkle green onion + peanut mixture on top. Enjoy!